During the renovations of one of our historic bank halls, our construction teams uncovered a small note behind a plaster pediment in the ceiling, signed by John Kernekin on August 18, 1953. It identifies Kernekin as a "painter," "decorator, and foreman" on the project, working for Edward W. Minte Co. on interior decoration. The note also lists his union, Union 368, the Washington, DC. and Maryland workers' union for Commercial Painters, Drywall finishers, & Wallcovering Installers.
We were curious to learn more about the man behind this long-forgotten note hidden in our walls, so did some digging and found a bit more about the life and work of John Kernekin.
John was a longtime resident of the area, but was born in Germany in 1901. He immigrated at age 22, choosing to join a friend from back home in Miami. John probably came to America to escape the economic crisis in Germany, as in the wake of World War I, the country was suffering from high inflation. On January 1, 1924 his ship from Hamburg, Germany docked in New York and John- listed as "Johann" on the passenger list-began his new life in the United States.
Although John was able to immigrate to the United States in 1924, this was the year that the Immigration Act of 1924, also known as the Johnson-Reed Act was enacted. This law put tight regulations on immigration, barring those from Asia and setting quotas on those from other countries. Options were sometimes better for families like John's from Germany, though immigrants of all kinds were often subjected to exclusion and bigotry.
John likely trained as a painter in Germany, as this is listed as his occupation on the passenger records when he first arrived in the country. For project-based roles like John's, wages may have been particularly unstable in Germany. Arriving in the US already trained in a trade, would have increased his success in finding work. He followed his friend Paul down to Miami, a city at the height of a population boom. It was also in Miami that John met and married his wife Lydia, who was also a German immigrant. They would wed on Christmas Day in 1926.
Before his wedding, just three months after arriving and settling in Miami, John filed his intent for naturalization to become a citizen of the United States. From that date, he had seven years to finish his naturalization journey, which he ultimately did in DC. According to a 1929 Evening Star newspaper article, John and his wife along with 180 others were naturalized in a ceremony at the Chamber of Commerce.
It looks like John's widowed mother immigrated with his sister a few years after he did, and lived with John and his family both in Miami and later in Washington, DC. Like many immigrants, they settled near people they knew from their home country. Around 1926 the Florida land boom had caused the cost of living in Miami to skyrocket, making finding an affordable place to live difficult, so the Kernekins – including his mother and four children- moved north and settled in DC and Maryland, where he remained for the rest of his life.
We're unable to tell when John started working for the Edward W. Minte Co. that is listed on our note in 1953, but he lists them as his employer on his WWII draft card in 1941, and they show up again under his entry in the 1954 D.C. City Directory. The Minte Co. worked on our American Security and Trust Company and Riggs Bank buildings, specifically on the intricate, plaster rosette ceiling at 1501 Pennsylvania Ave. In its lifetime, the company has also contributed to the work of other sites around DC, including the renovation of the White House in 1953, the State Department Building, and the National Cathedral. At one point, John was working at Minte Co. with his two sons, one of their wives, and a cousin—another instance of family following family.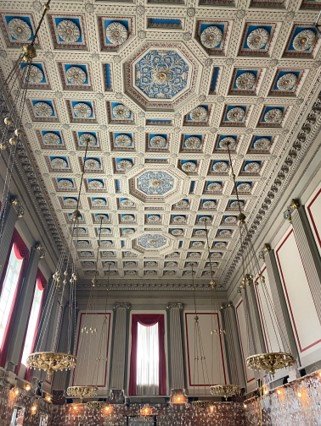 As a foreman, John would have supervised the trade workers under him, who were probably also a part of his or another worker's union. Like any job, his would have had its complications. A Harvard Business Review article from the era implied that both sides—management—looked to a foreman to resolve disputes and keep the project on track. They had to balance meeting the needs and expectations of each side with authority and tact, and encourage the cooperation and understanding of both. It would take leadership, experience, and skill in navigating both company expectations and trade practices.
In addition to his work at Minte Co. John also helped decorate some of the area's homes. Although we don't have many details on that work, one of his more public projects was the Dumbarton Oaks house museum. John worked on touching up the ceiling of the Music Room in 1962 and again in 1981—at eighty years old! He had officially retired in 1957 at age 55, but apparently returned to his trade periodically over the next few decades.
His work allowed him to own his own house in Anne Arundel County in Maryland by age 38, before later moving to Annapolis and eventually retiring further out in Edgewater, Maryland. There, he was president for a period of the Woodland Beach Community Church, and served on the board of the Londontowne Property Owners Association, a private community. John died at age 87 in 1989 in Edgewater. His family has since dispersed across the country, but he left his mark on our building and sites across DC. He fulfilled his American Dream as a tradesman and homeowner, and found community support and professional advancement surrounded by his family in our city.