The Milken Center for Advancing the American Dream shares diverse perspectives relating to our four pillars and the American Dream. The Dream looks different and means something different to everyone. While views and opinions expressed here are those of the authors and do not necessarily reflect the Center's position, we believe it is important to explore issues from many angles to promote productive dialogue.
Jennifer is a senior at the College of Mount Saint Vincent and a Millennium Fellow. The Millennium Fellowship is a partnership between the Millennium Campus Network and the United Nations Academic Impact. Read more on this innovative partnership here.
Jennifer shares her American Dream story as part of our #MyAmericanDream campaign. Learn more about the campaign and how to participate here.
I stand by the United Nations' Sustainable Development Goals (SDGs) because they target issues that impacted my parents profoundly: poverty and hunger. My parents both grew up in a small agrarian town in Guatemala called Totonicapan. During the 1970s, the town lacked access to clean water, food security, and safety from crime. Totonicapan was not an ideal area to raise a family and build a home, yet many families remained hopeful about building a future in a town that offered the bare minimum. By the time my mother was five years old, she was used to having to go to work, eat small meal portions, and run around without shoes. As she grew older, she understood that her family of nine was barely getting by. Although my grandfather made sure that going to school was a priority, each year it got harder for my mother to attend while not having enough money for food, clothes, and books. At the age of 12, my mother no longer went to school and decided to go to Guatemala City to work and care for herself.
At the age of 15, my father also left his family and traveled to Guatemala City in order to escape the deprivation he encountered at home. After many nights sleeping on the streets of Guatemala City, he was approached by a man who gave him the opportunity to join the army. My dad joined the army and was given food, security, and shelter. Although he had access to the basic resources he lacked throughout his childhood, joining the army came with a price. He was trained and sent into wars that scarred him both physically and mentally. Being in the army wasn't his ideal option, however it was his only option to remove himself from the brink of poverty.
A few years after meeting in Guatemala City, my parents decided to leave their home country. They saw that life could not prosper from the corrupt systems, crime, and poverty hidden beneath the beautiful Guatemalan landscape. They both knew they deserved a better life, and the United States held the opportunity to chase their dreams, to live a life where opportunity is given. Therefore, my parents made the decision to walk thousands of miles away from Guatemala and to cross the borders of Mexico and the United States in order to chase their American Dream. Twenty seven years later, they are living their American Dream.
Each time I talk about my parents, I gain a deeper understanding that their bare feet walked the hard soil of Guatemala without a choice. My parents came to the United States so that I could have a choice, and, because of them, I am alive and determined to tell their story. After learning and being a part of my parent's story, I understand that many people continue to face similar hardships. While my parents were lucky enough to surpass their situations, more than 700 million people are living in extreme poverty, about 57 million primary-aged children are not in school, and at least 400 million people lack basic health care.
I joined the Millennium Campus Network (MCN) in order to take part in a global initiative: to target the Sustainable Development Goals (SDGs). The United Nations created the seventeen Sustainable Development Goals in order to end poverty, protect the environment, and ensure that all people have peace and prosperity by the year 2030. While many are aware that hunger, poverty, and a lack of healthcare and security exists at every corner of the world, many are not aware of the global initiative that the UN has set forth: to achieve the SDGs by 2030. Therefore, I made it my mission to educate society.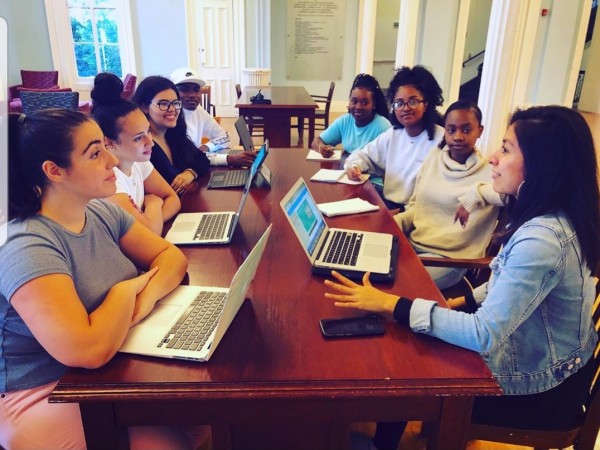 Although I hope to educate the wider population about the SDGs, I am working to first transform the academic curriculum of my college campus. The plan is to connect the SDGs with the content students are learning in class. In departmental meetings, I encourage professors to implement the Sustainable Development Goals into their agendas and the syllabi of their introductory classes. These classes include the introductions to Psychology, Biology, Sociology, Marketing, Spanish, and so forth. Professors are given project plans on how to implement the SDGs. For instance, in the Department of Psychology they would target SDG #3: Good Health and Well-Being. A lesson plan would discuss strategies on how to promote the health and well-being of global citizens. Class discussions and assignments may address the following questions: How are diseases impacting the health and well-being of children and mothers globally? What actions can we take as global citizens to remove the barriers that prevent societies from access to health care? What social policies can be made to foster mental health and well-being in both developed and developing countries? What services can assist people coping with natural disasters that are tied with situational climate effects? In the Science Department they would target SDG #11: Sustainable Cities and Communities. With respect to the Department of Natural Sciences, a lesson may address sustainable practices in food and agriculture. Should we be using genetically modified organisms (GMOs) in agriculture? How can we monitor food waste? What happens during food recycling? Should we be consuming chemically modified food and what are the effects on the body?
Starting with introductory classes is crucial to launching the SDGs on campus. Students and professors will gain a sense of how general knowledge ties into global situations. After a few semesters of introducing the SDGs, the aim is to then implement them into higher-level courses. Academic departments that are on board so far include Philosophy and Religious Studies, Sociology, Psychology, Natural Sciences, Modern Languages and Literature, Accounting, Business, and Economics. Those who are a part of the project include my advisor Mariela Wong and Wantoe Teah Wantoe, co-director of the 2020 Millennium Fellowship Program on campus. While I will be graduating in 2021, incoming participants in the Millennium Fellowship Program will work to carry out the plan, by meeting with academic departments, holding discussions around the SDGs, and carrying out other social entrepreneurship projects.
The overall objective of my project is for students to learn and understand that they are not just students who study, go to work, and participate in extracurricular activities; they are also global citizens who have a role in the global community. By connecting their daily lives and education to the SDGs, I hope that they will make meaningful choices that promote sustainability and prosperity for all as they build their lives and spread that knowledge as they go. The more students are aware of the SDGs, the more they are aware of their purpose on Earth.
The initiative is not an easy task, especially when it comes to working with people who aren't like-minded. Some are against climate change and others deny the possibility of achieving the goals in a limited time frame. However, I am fortunate enough to start with a community that is supportive in moving my plan forward, which include the MCN, professors, peers, and most importantly, my family. While the task involves a significant amount of time and effort, there is no doubt that the plan is achievable. My parents showed me that anything is achievable when you put your mind to it. They entered this world barefooted, grew up rarely having food and lacking educational opportunities. They entered the United States not knowing what difficulties they would encounter: poverty, stress, discrimination, and racism. However, they never lost their sense of hope, in which they built the strength to overcome obstacles and chase their dreams: to build a better tomorrow and a life where their children could grow, have shelter, and receive a good education. I wish this for everyone, to have a better tomorrow and to be able to prosper. While I am only one person, I am driven to spread awareness through meetings with academic departments, panels, in-class discussions, presentations, and simple conversations with peers. In the end, all it takes is one person to take one small action that can make a whole difference.