Over the course of nine wonderful and inspiring conversations, from July to September, 2020, I had the opportunity to engage with small business founders across the country as they navigated not only the ordinary challenges that complicate entrepreneurial success, but also those unfamiliar ones posed by COVID-19 and quarantine. At the core of every conversation was the power of community, the ability to be resilient and courageous and the opportunity to see promise even in the midst of an unprecedented pandemic. The inaugural podcast series, Start Small, Dream BIG, was inspired by the Center's focus on storytelling to reveal the tapestry of individuals who are actively pursuing their own American dreams, and the important role of small business owners as job creators and community leaders. From Louisville to Seattle, the podcast guests shared how their diverse family backgrounds, passions and serendipity gave them the motivation not only to start a business, but the dedication to make it succeed. Many needed to reinvent themselves and pivot their businesses to entirely new directions in the face of COVID-19. In a series of blog posts, I will highlight a number of the key takeaways we found across our guests' stories.
In this first of three posts, I'll look at the ways in which an ability to pivot quickly in the face of new market forces can help small business entrepreneurs survive in this challenging economy, and the key role even new small businesses play in supporting the fabric of their communities.
When LaTarah Edmond was still in high school, she quickly became known for her hairstyling skills, and soon her living room was filled with classmates waiting to get their hair done before school events. After high school, LaTarah pursued a career in journalism and marketing, becoming the first person in her family to graduate from college. While working as a small business development executive, LaTarah's job led her to a high-end salon where she had the opportunity to learn more about the billion-dollar beauty industry. This experience pushed her to follow her passion, and led to LaTarah attending cosmetology school in the evenings. Ultimately, she left her secure job to open her own salon in Duncanville, Texas. Despite her family's confusion and belief that hairdressing was a "hobby" and not a "real" business, she persevered.
LaTarah launched a high-end hair salon specializing in Black hair. When COVID-19 hit, she realized that with the same attention to detail that helped her launch her business, she could create a healthy and safe environment when Texas allowed salons to reopen. She reconfigured her salon, added new protocols and reached out to customers to ensure they knew they could expect excellence and safety when they returned. LaTarah's priorities were the safety of her team and clients, as well as the ability to bring joy and comfort during a period of uncertainty and fear.
She tells podcast listeners, "the American Dream is knowing that no matter what your circumstances are, no matter what your background is, whether it's your family, or personal, or what have you, you can really change the trajectory of your life."
Across the country in Seattle, when COVID hit Angela Shen took her twelve-year-old daughter's suggestion to turn her successful food tour business into a bespoke food delivery service—and she made that pivot in only three days! Angela saw that not only was her food tourism business being shut down by quarantine, so were the livelihoods of the small food suppliers and restaurants she had grown to know and love as a tour guide. Working with dozens of vendors, she quickly created a custom food delivery service that both met the needs of her customers for delicious, healthy food, but also kept more than 100 small restauranteurs and farmers afloat. Her food boxes are delicious and nourishing, but they are also a celebration of her community and its diversity. Angela's food boxes, like the Iconic Market Box feature a rotating selection of Pike Place Market vendors and showcase the special offerings from the historic Market's vendors and other local small businesses while building an emergency fund to support the vendors who are most in need.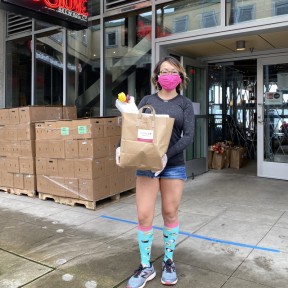 She says of her first-generation American upbringing, "I grew up in this ether that was mine for the making -- and if I didn't seize this opportunity by being able to be born here in America, I was just squandering my opportunity. So, I feel very fortunate, and I get emotional. I talk about it because truly I've felt very blessed that I got to make my own path here."
When the pandemic began, Angela didn't have the option of sitting back and closing down. Instead, she found a way to support her community even if it meant completely changing her business. She stayed true to her passion for food and highlighting her community and managed to alter her business in an organic and thoughtful way. Angela's determination to act and believe in herself and her community is exciting to witness and offers inspiration in these uncertain times.
In Florida, DeliverLean founder Scott Harris was inspired to start a healthy foods business after seeing his employees' energy levels flag around midday while he was working at a call center. Scott realized that something as deceptively simple as having easy access to a variety of healthy food options at work could raise productivity in workplaces. Although he had never worked in the food industry before, he took his experience of managing people in office environments and trusted his ability to address the problem he saw before him.
Within three years, DeliverLean became one of the fastest growing companies in the food industry, in part due to Scott's successful advocacy with health insurers to bring nutritious DeliverLean meals to housebound seniors.
When offices no longer needed lunches delivered as a result of COVID-19, Scott managed to turn DeliverLean into one of the nation's top models for how to deliver safe, healthy and timely food to underserved communities in Miami, providing up to 100,000 meals a day for seniors at high-risk for COVID-19. While initially hard hit, Scott managed to build DeliverLean back even larger than before, becoming one of the few companies able to increase hiring during quarantine. The lessons Scott shares about navigating uncharted territories are powerful - but his commitment to serving his community and his unshakable belief in making affordable, healthy food available for everyone is what sets him apart.
These entrepreneurs, through their drive, flexibility and belief in the power of their ideas have demonstrated the importance of knowing when and how to pivot away from a career or a business plan that no longer works. None of them could have expected the devastating impact of the coronavirus pandemic on their businesses, but they were able to think innovatively to protect themselves and their employees, and in the process, made their businesses beacons of hope in their communities.