The Milken Center for Advancing the American Dream shares diverse perspectives relating to our four pillars and the American Dream. The Dream looks different and means something different to everyone. While views and opinions expressed here are those of the authors and do not necessarily reflect the Center's position, we believe it is important to explore issues from many angles to promote productive dialogue.
Paul Dillon served in the U.S. Army Aviation Group during the Vietnam War, receiving two Bronze Star Medals and reaching the rank of 1st Lieutenant. After returning home, Paul joined an accounting firm. Decades later, he started his own consulting firm and later strengthened his ties to fellow veterans around the country by building a veteran-led small business incubator in Chicago that became Bunker Labs.
Dillon reflects here on his time in the military, his path to starting his own business, the role of veterans in the workforce, and the American Dream.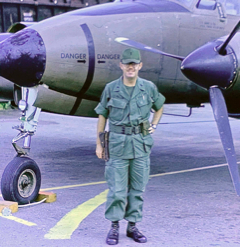 On Starting A Business and His Passion for Teaching
In 2006, I channeled my lifelong desire for creativity into starting my own business, Dillon Consulting LLC. Five years later, an assignment from one of my clients, Crain's Chicago Business, launched me on the path of education and research into myriad issues affecting veterans, including a particular focus on their employment challenges. I created the framework and concept for a veteran-led incubator in Chicago, which eventually became Bunker Labs. The framework also led to the first mini-course of its kind on veterans' issues at the Harris School of Public Policy at the University of Chicago. I currently teach a graduate-level version of that course at the Sanford School of Public Policy at Duke University. As far as I know, there is no other course like it in the United States.
This has been a revelation for me. When I came home from Vietnam, I had no idea that I would be so involved with veterans' issues, particularly in such a creative way.
My career journey through the worlds of business, non-profit, government, the military and academia has taught me that no one achieves success alone. I have been fortunate to have had many excellent mentors and teachers along the way—and have learned much from each one of them.
On Veterans in the Workforce
A common misconception is that veterans have an unemployment rate that is higher than the civilian population. But actually, there's a lower unemployment rate thanks to the skills veterans acquire during their military service that makes them more valuable to employers than comparable age groups in the civilian population. Characteristics such as a commitment to accomplishing the mission, a strong work ethic, the skills required to not only be an effective member of a team but to lead a team, and the ability to pivot immediately from plans that aren't working to plans that do—are all traits that are prized by civilian employers.
Want to make a good employment bet—hire a vet!
On the American Dream
I am living the American Dream now. The ability to run my own firm and teach wonderful, thoughtful and highly intelligent young people at the Sanford School of Public Policy at Duke University is a dream come true.
It isn't my American Dream that's important, however. What is important is that throughout my career, I have been able to help others achieve their American Dreams. If it's just your Dream, then when you die, it's likely that your Dream dies with you. But if, as a part of your American Dream, you can help others achieve theirs—and inspire them to help others realize their own in turn—then a part of your American Dream has a chance to live on in perpetuity.
Let me give you an example. I had a dear friend reach out to me about an article that I wrote about my Vietnam service long ago. He had kept a copy of it, and he read it at critical times in his life. He told me that it helped him overcome his sense of "survivor's guilt" about his own Vietnam experience.
He is an extremely successful author and professional. I can only hope that by baring my own experience I helped him to achieve his American Dream. And, that's the realization of the greatest American Dream of all – a shared one.